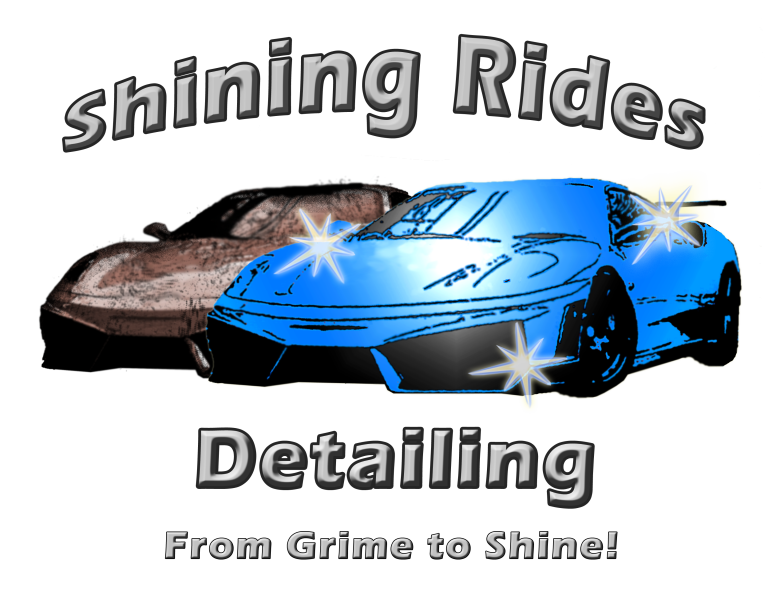 WHAT IS A CERAMIC COATING?
What is a Ceramic Car Coating? One of the simplest ways to describe a ceramic coating is to think about your vehicle's surface. Your vehicle has several layers of paint on it. A ceramic coating is a sacrificial layer of protection over your vehicles finish.
Utilizing nanotechnology, ceramic coatings build a permanent bond to your vehicles clearcoat. This clear layer is naked to the eye, but don't let that fool you. This clear layer will not wash away from cleaning or rain, nor will it break down fast like traditional waxes or sealants. In fact they last years!
Water instantly repels away encapsulating dirt, making your vehicle easier to clean. This hydrophobic effect is known as the self cleaning effect. The hydrophobics of ceramic coatings is the first benefit that draws attention to the end user. While the self cleaning benefit is nice, there are even better benefits of a Ceramic Coating.
Ceramic Coatings prevent oxidation, aide in bird droppings, and make your vehicle's surface less prone to scratching. The harden structure left behind from a ceramic coating is 2 to 3 times harder than clear coat.
So why Ceramic Coatings? SB3 Ceramic Coatings is the best protection for car. SB3 Coatings brings innovation and science to provide you with modern technology.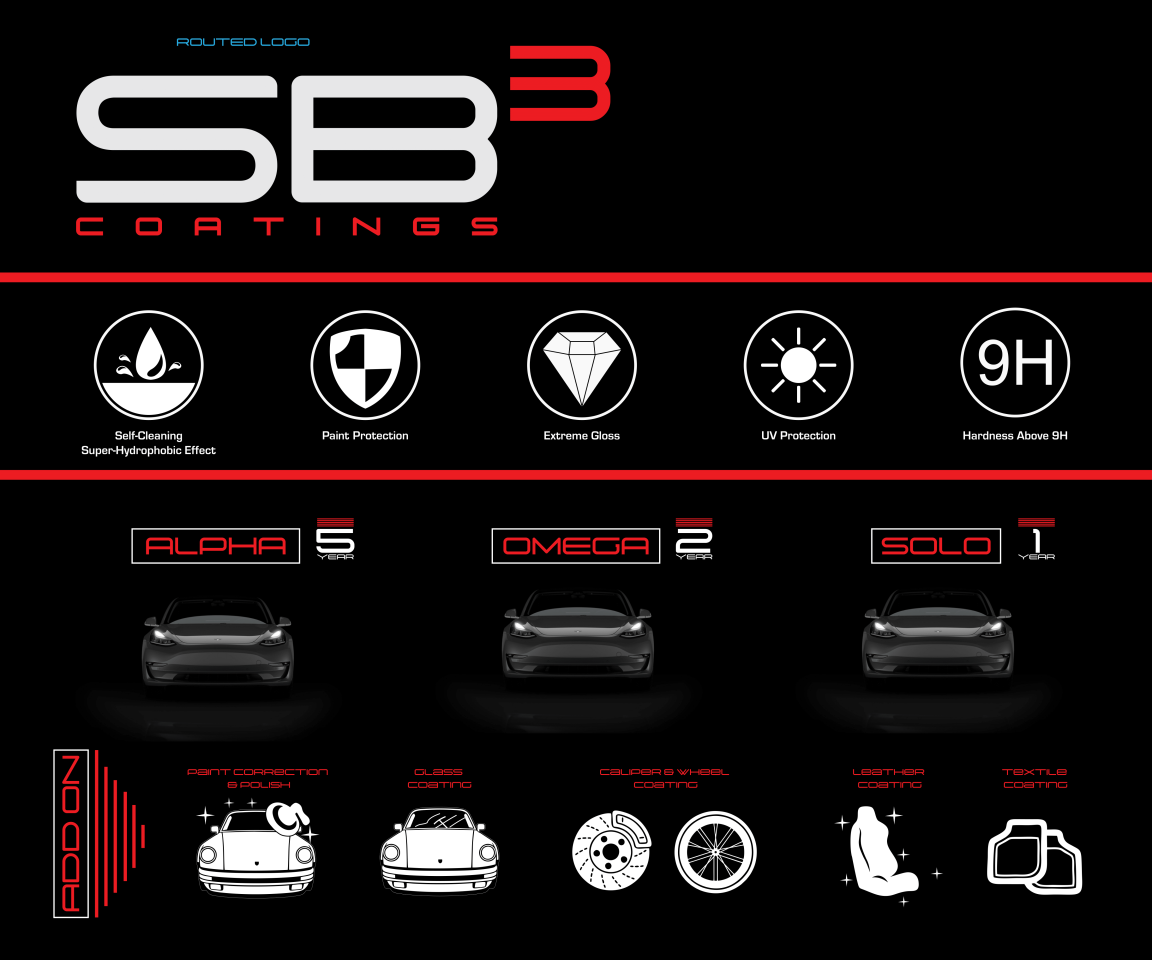 SB3 CERAMIC COATINGS
SB3 Coatings are a clear liquid that when cured they become a hardened structure on your vehicle's finish. Durability of our coatings range in years, not months like traditional waxes or sealants. We offer a variety of coatings for all vehicle surfaces. We are the new standard in Nano Ceramic Coatings.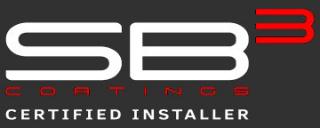 The following is included with the purchase of our 2 year (Omega), 3 year (Moto), 5 year (Alpha) and 7 year (Trinity) coating installation:
Light polishing of the paint this will bring out the depth and gloss of the paint. It will not remove scratches or inperfections in the paint. If you are looking to have items like these taken care of a paint correction would need to be completed.
16 oz bottle of car shampoo for maintaining the coating yourself.
16 oz bottle of SB3 Maintain quick detailer to keep the coating looking like it was just installed.
Yearly inspection of the vehicle and coating and a free wash, decontamination if needed and topped with SiO2 Sealant to boost and protect the coating.
A DO NOT WASH rearview mirror hanger for when you take the vehicle in to be serviced.
Third party warranty for our 2 year, 5 year and 7 year coatings. (Warranty only covers 3 year coating Moto if installed on a motorcycle).
The installation is also reported to CarFax showing that a ceramic coating was installed on your vehicle.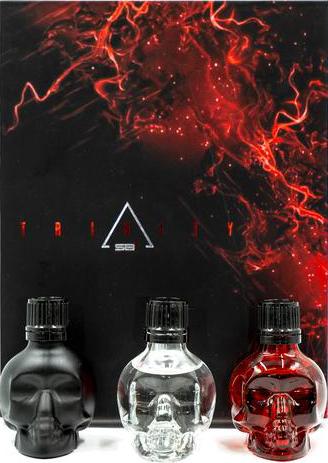 Welcome to Trinity
Starting at $1,250 plus tax
Paint correction not included. If you would like the paint corrected before application please contact us to schedule a free in person inspection and estimate.
SB3 Trinity is our exclusive 3 part coating system only available to select Surface Specialist in our network. This is a 7 year 10H coating and is backed by our 3rd party warranty and is reported to Carfax.
(Click to view terms of warranty).
This coating is for those wanting the best of the best in a coating and not just the 7 year durability. Trinity is a 10H hardness, ridiculous gloss, insane hydrophobics and incredible slickness.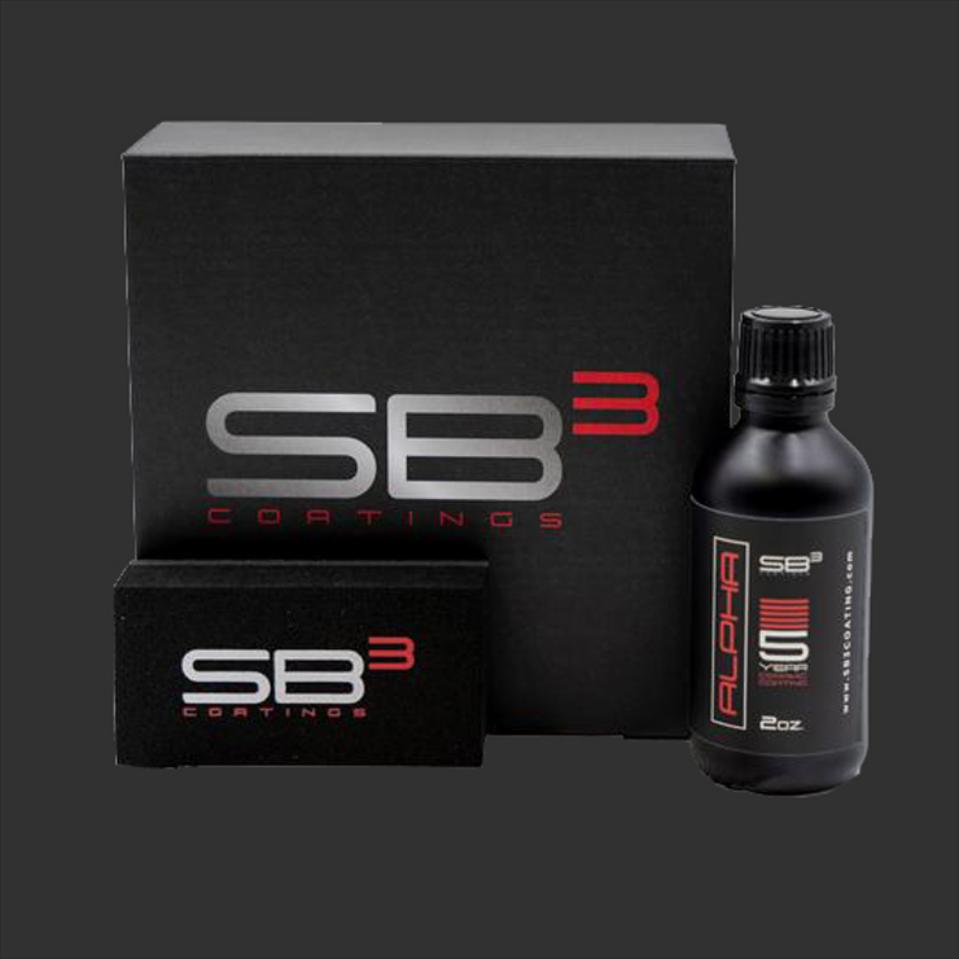 Alpha
Starting at $900 plus tax
Paint correction not included. If you would like the paint corrected before application please contact us to schedule a free in person inspection and estimate.
SB3 Alpha Ceramic Coating is a premier coating offering a High Solids formula of 9H protection. Its advance properties make it the best choice for durability, slickness and overall protection. Backed by a 5 year third party warranty there is no better choice for your vehicle.
(click to view terms of warranty).
Alpha Coating provides a permanent bond to your vehicles paint and will not be removed by harsh chemicals once fully cured. Alpha is highly protective against light marring, UV Rays and bird bombs. The elements of nature don't stand a chance. Alpha Coating has a contact angle of 110 degrees, this allows for the self cleaning effect to perform. For those who demand the best, look no further then SB3 Alpha.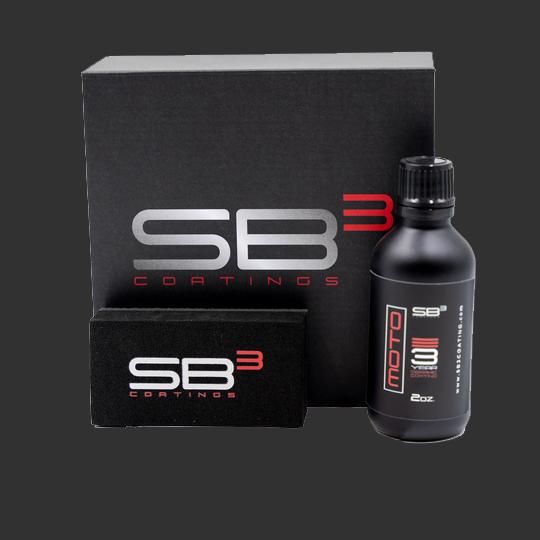 Moto
Starting at $550 plus tax
Paint correction not included. If you would like the paint corrected before application please contact us to schedule a free in person inspection and estimate.
SB3 Moto
is a 3 year coating that was designed for motorcyles, but can be used on cars as well. (Warranty only covers this coating being installed on a motorcycle). It is backed by 3rd party warranty and is a first of its kind.
(Click to view terms of warranty).
For years Ceramic Coatings have been protecting various substrates. SB3 Coatings was the pioneer in developing the world's first coating company to come out with such a formula. Moto has just what the rider needs to make his life easier. Moto is a 9H formula designed for high temp situations. Moto can be applied to chrome, paint, aluminum, and other vehicle surface. Moto has a very slick surface on paints and plastics. Moto will make removing bugs and tar a simple task. Chrome will stay shiny longer, it will never need polished again! If you ride, simply put, you need Moto.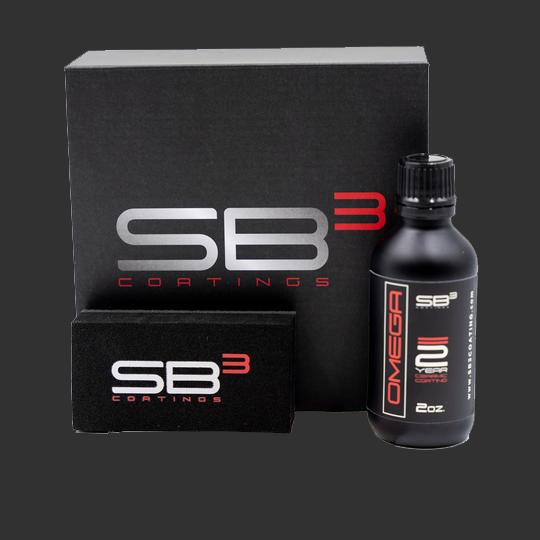 Omega
Starting at $450 plus tax
Paint correction not included. If you would like the paint corrected before application please contact us to schedule a free in person inspection and estimate.
SB3 Omega Ceramic Coating is a great coating for those looking to add an incredible amount of slickness to there vehicles surface. Omega is a 4H coating which will protect your vehicles finish for 2 years. Backed by a 3rd party.
(Click to view terms of warranty).
You will feel at ease with this entry level coating knowing your car is protected. ​Omega has been known for several characteristics. It provides a darkening effect to paint unlike no other coating available on the market today. This high Gloss formula works well as a top coat or a stand alone coating. With a contact degree of 115 degrees, you will be amazed at its self cleaning effect.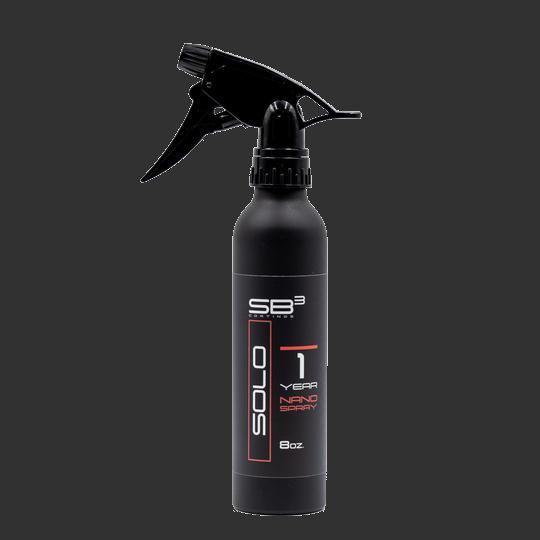 Solo
Starting at $250 plus tax
Paint correction not included. If you would like the paint corrected before application please contact us to schedule a free in person inspection and estimate.
Can be added onto exterior detail service or any full detail package.
SB3 Solo is a great entry level coating. It offers the same characteristics of all both Alpha and Omega, except with one year durability. Solo provides incredible gloss and slickness/hydrophobics making your car easier to clean.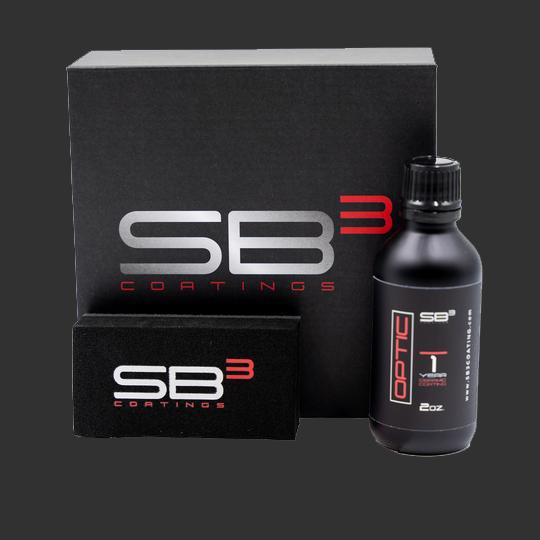 Optic
Starting at $85 plus tax
The glass is cleaned, claybared and polished before installation.
Can be added to exterior detail service or any full detail package.
SB3 Optic Glass Coating goes unsurpassed in the Windshield Coating game. You won't find another like it! The hydrophobic properties of Optic reach an amazing contact angle of 117 degrees. This is very important to the consumer who has their windshield protected. When driving in during a downfall of rain, Optic will make the water roll right off the glass which will allow you to see clearer and further, helping driver reaction times. Optic is the clear choice for safety and protection.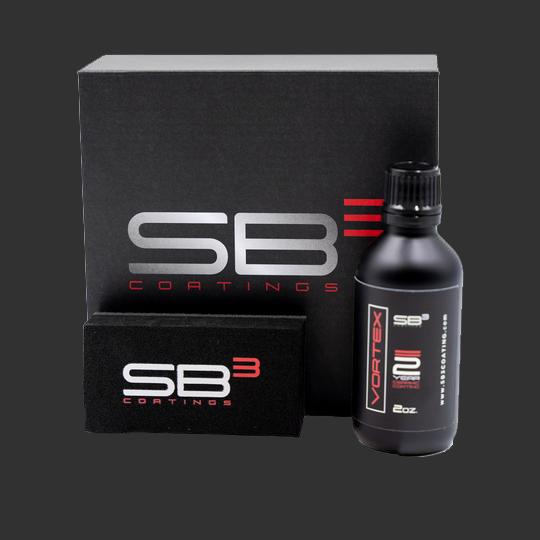 Vortex
Starting at $200 plus tax
Due to liability reasons we do not remove/install wheels.
Can be added onto exterior detail service or any full detail package.
SB3 Vortex Ceramic Coating is a glass coating designed for Wheels. This proprietary formula promotes extreme durability with unsurpassed hydrophobic self cleaning capabilities. Vortex makes wheel cleaning easy. This 9H formula will leave a semi permanent protective barrier between your wheels and the crud that builds up. Once applied you will understand just how much this product can make your life easier when it comes to maintaining clean wheels. Vortex truly is the best wheel protection on the market. Designed to help prevent oxidation and corrosion, Vortex wheel coatings will last 2 years.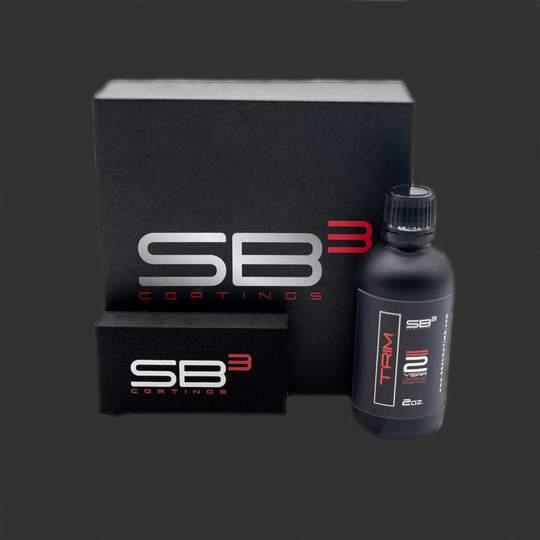 Trim
Starting at $100 plus tax
Exterior trim/plastic on vehicle is cleaned, degreased and prepped before installation.
Can be put onto black or gray plastic.
Can be installed on non faded plastic to protect it from fading.
Will restore faded plastic and restore it to original look and protect for 2 years.
SB3 Trim is our newest coating. Not only is it plastic protectant, but it will restore faded trim as well to its natural appearance.
It is quite common to observe fading or discoloring of automotive finishing materials under the influence of UV radiation as well as strong chemicals used in car washes. SB3 Trim preserves the long-lasting, darkening effect of color saturation, which translates into ensuring a matte or satin finish of materials. Even after 12 months, the effect of color darkening does not diminish, which often means exceeding the durability of traditional products.
Unlike your typical dressings, SB3 Trim will not be greasy or oily. The color won't be faded by car wash soaps.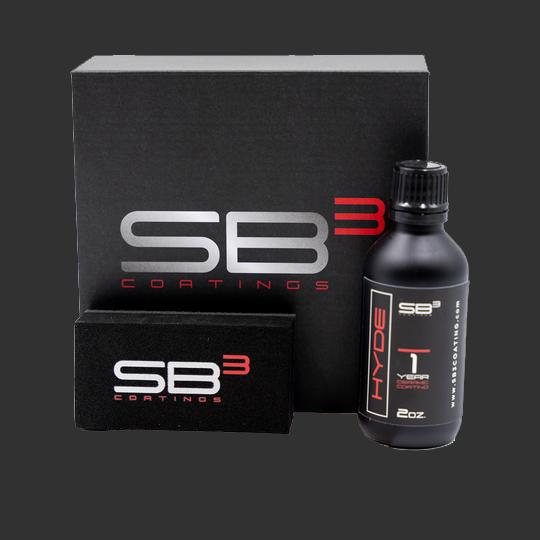 Hyde
Starting at $125 plus tax
Applied to seats, armrests, steering wheel & any other leather contact areas.
All leather areas including the seats are cleaned before application.
Can be added to an interior detail service or any full detail package.
SB3 Hyde leather coating is durable up to one 1 year. Hyde will preserve the leather keeping that factory look. Its a non greasy formula designed to protect your vehicles leather against UV Rays and stains. It will keep your leather soft and supple, while allowing for easy clean up.Maintaining resale value is important. Your vehicle's interior is a major priority with resale value.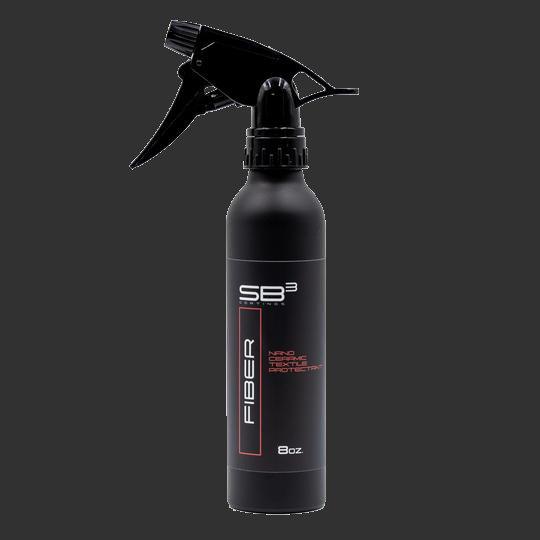 Fiber
Starting at $100 plus tax
Seats and carpet is vacuumed and cleaned before application.
Convertible tops are cleaned before application.
SB3 Fiber Coating is a Nano-ceramic fabric protectant that will last up to 1 year of durability. It can also be used on cloth convertible tops. This water based odorless product will not leave any harsh chemicals behind in your car. Fiber will protect against your carpets stains and spills. Coffee and other liquids will roll right off the carpet or seats without penetrating past the coated material.
Realistic Coating Expectations / Maintenance / Warranty
If you have been researching coatings online, you have likely seen some ridiculous marketing claims by some companies. Everything from coatings being set on fire, scratched with keys, or claiming they never need washing. Ceramic coatings offer the highest levels of protection, durability, shine and ease of maintenance. Once you have a coating, you will never want to go back to waxes or sealants! Coatings are not a bulletproof force field of protection around your vehicle and no coating will last a "lifetime". They do require a reasonable level of proper maintenance to perform their best. While coatings are often harder then factory paint, no coating prevents rock chips or is even scratch-proof. They can offer an increased level of scratch resistance, helping protect against light marring. When choosing a coating, don't focus soley on how many years it lasts. Even if you only keep your car a few years, the 5 year Alpha coating will be harder (and have better self-cleaning properties) than the 2 year Omega, If you simply want the absolute best for your vehicle - then the Trinity coating is for you! The more information you can provide us about your expectations (and plans to maintain the vehicle) - the more we can help recommend the right coating for you!
Once applied, the coating needs to stay completely dry for 24 hours (as it begins to cure). After 24 hours the vehicle is safe to be driven in the rain if necessary. Allow 7 days for the coating to fully cure before washing or wiping on it. Avoid using any shampoos, detail sprays, or products that contain wax or polymer additives. There is never any need to apply products that contain waxes or sealants over the ceramic coating. They will clog the pores of the coating and will negatively affect the coatings hydrophobic properties and can leave an unwanted residue on the surface. SB3 Maintain is a product designed specifically for the maintenance of your coating. Applied periodically it will refresh and boost the hydrophobic properties of the coating. From shampoo to towels, we are happy to provide you with the best products available to preserve your Ride!
I highly suggest scheduling maintenance details with us. We will come out to wash, fully decontaminate and top off your coating to ensure maximum performance! This service is included with our annual inspection on our 2 year, 3 year, 5 year and 7 year coatings. Maintenance details in between will have a small fee. For complete terms and conditions of the warranty please
click here
, you can also contact us by
email
or by
phone
with any questions you may have.
Did you know all registered SB3 Coating Warranties are now registered with Carfax to help with resale value.
These semi-permanent paint protection solutions will lock in any imperfections you may have in or on your paint, performing paint correction/buffing to remove any scratches, swirls or other contaminants prior to applying the ceramic coating is highly recommended and included in our quoting process. In addition, a week or so after your coating has been applied we will have you come back for a free maintenance wash to show you the best way to care for your newly protected vehicle.
SB3 Coatings on National Tv! On MotorTrend Channel! Performance TV Program with Kathy Fisher & Joe Costello check it out!
Let's Talk